Biography
Richard C. Lindberg, A Chicago Writer

Richard Lindberg is a lifelong Chicagoan, an author, journalist, and research historian who has written and published seventeen books dealing with aspects of city history, politics, criminal justice, sports, and ethnicity. He is a past president of the Society of Midland Authors. Writing has been his avocation since age eleven, when he began keeping a journal. It is a lifelong practice inspired by an early reading of The Diary of Anne Frank.
Rich has been researching and uncovering forgotten Chicago history for over 30 years. He has been featured on History's Mysteries, Cities of the Underworld, Justice Files, Mobsters, American Justice, Masterminds, and many television and radio programs of local and national origin including WBEZ, the local NPR affiliate in Chicago; In Search of History; plus Lost Worlds; two documentaries about Chicago gangland for the Travel Channel; a documentary about Chicago gambling boss Mike McDonald for Irish public television; two episodes of Evidence on Discovery plus numerous appearances on Milt Rosenberg's thought-provoking Extension 720 program, heard nightly on WGN Radio.
Rich broke into print in 1977, beginning as a free-lance reporter for the Lerner Community Newspapers of Chicago, a talent incubator for many local journalists. He spent his nights covering sports, community events, fraternal associations, and political gatherings across the greater Northwest Side of Chicago.
"WHISKEY BREAKFAST: MY SWEDISH FAMILY MY AMERICAN LIFE,"
PUBLISHED IN THE FALL OF 2011
Rich's cathartic memoir of growing up, The Whiskey Breakfast: My Swedish Family, My American Life, a book project he worked on for the better part of 22 years, was published in September 2011 by the University of Minnesota Press. It is a poignant, often heart rendering, multi-generational family tale inter-woven with the Sweden-to-America saga, the tragedy of divorce, financial hardship, abandonment, and the tormented boyhood world of bullies Rich was forced to endure at William J. Onahan School in Chicago during the 1960s.
Media Praise for the Whiskey Breakfast
"Lindberg serves up captivating historical tidbits and offers a window into the immigrant experience."
—Publisher's Weekly

"Deep, introspective and somber, this is by far Lindberg's most personal book to date."
— Kirkus Reviews

"Whiskey Breakfast, in its way, a chilling title for what is ultimately a chilling, remarkably honest and redemptive story."
— Rick Kogan, Chicago Tribune and the host of "The Sunday Papers" on WGN Radio
"Whiskey Breakfast" won the 2012 Society of Midland Authors Finalist Award for Best biography of 2011.
Dust jacket and catalog text from The Whiskey Breakfast

Whiskey Breakfast
My Swedish Family, My American Life
Richard Lindberg

Clark Street was the city's last "Swedetown," a narrow corridor of weather-beaten storefronts, coal yards, and taverns running along the north side of the city, and the locus of Swedish community life in Chicago during the first half of the twentieth century. It represented a way-station for a generation of working class immigrants escaping the hardships and deprivation of the old country for the promise of a brighter new day in a "halfway house" of sorts, perched between the old and new lands. . For Richard Lindberg, whose Swedish immigrant parents and grandparents settled there, it was also the staging ground for an intensely personal, multi-generational, coming of age drama about the struggles of two disparate families—their dreams and their depravities, their victories and their failures.

The Whiskey Breakfast is Lindberg's captivating tale of life as a first generation "Baby Boom" Swedish-American, caught between the customs of a land he had never been to and the desire to conform and fit into a troubled existence tragically scarred by his parents alcoholism, their divorce and the schoolyard peer abuse that he endured. But it is also a powerful and intimate portrait of his immigrant parents, their two families, and especially of his father, Oscar—a contractor and master builder who helped build Chicago's Post-World War II suburbs. A paradoxical man, known to some as a socialist, an anarchist, and a serious drinker, Oscar would carry with him to the grave a 62-year-old family secret, a secret that for Lindberg lies at the very heart of the great Swedish unrest that drove his father and countless other men and women out of Sweden and onwards to America.

Masterfully blending memoir with immigrant history, The Whiskey Breakfast surrounds Lindberg's family story with Swedish cultural history and politics, as well as remarkable Chicago history and how Clark Street and Swedetown become and in many ways remain a center of their social and cultural life. Far from a eulogy for an idealized past, Lindberg has crafted a poignant and sobering memoir of a young man's struggle to come to terms with his father and himself, his immigrant heritage and his native home.

A lifelong Chicagoan, Richard Lindberg has written fifteen earlier books dealing with aspects of city history, politics, criminal justice, sports, and ethnicity. A past President of the Society of Midland Authors and the Illinois Academy of Criminology, he has appeared on The History Channel, Biography, The Travel Channel, A&E, and The Discovery Channel.

Memoir
Writing About Chicago – "The Gambler King of Clark Street" Wins the Society of Midland Authors 2009-2010 Biography Award and an Award of excellence from the Illinois state historical society
Rich's 2009 biography of Michael C. McDonald, Chicago's wily 19th Century political boss, roué, and roguish gambler, inspired The Gambler King of Clark Street: Michael C. McDonald and the Rise of the Chicago's Democratic Machine, was named the winner of the 2009-2010 Biography Prize from the Society of Midland Authors. Two weeks earlier, at a special luncheon held at the Governor's Mansion in Springfield on April 24, 2010, Rich's book - praised for its originality and scholarship - won a Certificate of Excellence from the Illinois State Historical Society. The McDonald story, a first-ever biography about this enigmatic but mostly forgotten gambler who built the foundation of the city's enduring, and eternally corrupt Democratic Machine still in power after 120 years today. With swagger and bravado, "King" Mike elected mayors, consulted with presidents, amassed a personal fortune and suffered mightily at the hands of two feckless wives who "done 'em wrong." With swagger and bravado, "King" Mike elected mayors, consulted with presidents, amassed a personal fortune and suffered mightily at the hands of two feckless wives who "done 'em wrong."
His tragic personal life is interwoven with the intriguing story of the rise of organized crime in the Windy City; formulated by McDonald and his syndicate of gamblers, sharpers, bondsmen, sluggers and crooked politicians possessing colorful and oblique nicknames, a zest for the high life, and a gift for larceny on a grand scale.
Reader Praise for The Gambler King of Clark Street

I finished my re-reading of "The Gambler King" and it struck me that you put enough labor into this manuscript to have been awarded a Ph.D. degree in history. The book is not merely popular history, it represents genuine scholarship (emphasis added).

What caused me to read the book the second time was that recent news stories and political events put me to thinking about how little things have changed in Cook County. Only the dollar amounts (adjusted for inflation), names, and calendar dates are different. Of course, this is a point that you, yourself, made in the text.

Recently, I read the biography of Illinois Governor Len Small by Jim Ridings. Not too bad of a book, but the author does try to play up the Al Capone connection, as some authors are fond of doing, as the name of Big Al endures and exploiting Capone's name and image still results in sales at the cash register. Interestingly, Small profiteered, not unlike Varnell at Dunning, by controlling a state mental hospital in Kankakee. Sadly, Small never saw the inside of a prison -- his lawyers managed to obtain an acquittal at his trial (held in Waukegan due to a change of venue motion) for his misconduct while serving as State Treasurer. There were serious and credible allegations of jury tampering that were never pursued. Small was later held to be liable in a civil suit and made to pay restitution to the State of Illinois for some of the lost interest earnings, which he had pocketed, but he never repaid every last dollar and cent from his scams. It is a rare thing to have produced a book that continues to impress after a second reading. Well done!

—Dan Kelley, Chicago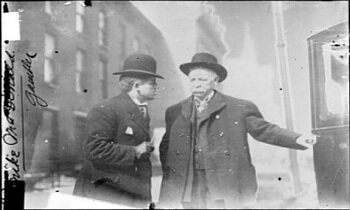 Mike McDonald (right) in old age, 1907


Also in 2009, Publications International brought out Chicago, Yesterday & Today, a hard-bound coffee-table edition with hundreds of vintage photographs, maps and wood-cut drawings juxtaposed with Chicago history and text supplied by Rich and his co-author Carol Jean Carlson. For Rich, it is quite a departure from crime, politics, and sports and a year-long writing project. It is available online and in bookstores everywhere.
PUBLISHED IN APRIL 2011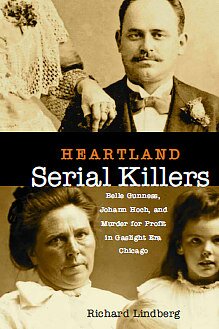 Heartland Serial Killers: Belle Gunness, Johann Hoch and Murder for Profit in Gaslight Era America, profiling Gunness and Hoch, two early 20th Century serial killers who placed advertisements in the lonely hearts columns of ethnic newspapers advertising for desperately lonely men and women to marry…swindle…and ultimately murder, was published by Northern Illinois University Press in DeKalb, IL, in April 2011. Belle Gunness carried out her bloody work in a rural farm house outside of LaPorte, Indiana from 1900-1908. Hoch, the lesser known fiend, was an apprentice to Dr. H.H. Holmes, the "master of murder castle" (more famously known as the "Devil in the White City") in the Englewood neighborhood of Chicago during the 1893 World's Fair. Hoch struck off on his own after his mentor, H.H. Holmes, was captured and hanged. Hoch, this squat, balding killer married 35 women in his time - about ten of them ended up in graves once their dowry and insurance policies were safely in his hand. Hoch and Gunness were contemporaries but they did not work together, nor did they know each, but if they had, one would have cancelled out the other.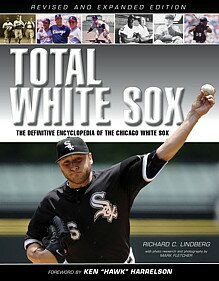 The third edition of Total White Sox – Rich's definitive 675-page history of the South Side team was also published in the spring of 2011 with complete updates through the 2010 season and many new photos and entries. Chicago-based Triumph Books is the publisher.
The White Sox in Chapter and Verse…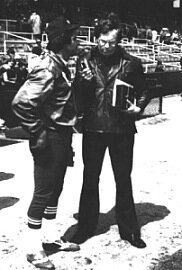 Rich interviews former White Sox manager Tony LaRussa at old Comiskey Park, April 1980

photo: Chick Moorman
Rich knows White Sox baseball. He grew up listening to the late-night broadcasts of Sox baseball by Bob Elson and Red Rush on WCFL and WMAQ Radio, and suffered the anguish of two blown pennants in 1964 and 1967.
In the late 1970s Rich began filtering historical statistics and tidbits of information to Don Unferth, the team's director of media relations, based on his exhaustive exploration into Sox history.
Gradually a role evolved for Rich as their "White Sox Team Historian" supplying historical data—lost for many decades—articles for team publications and various other projects. In 1988, Rich was on location in Indianapolis for the shooting of Eight Men Out. For months he had provided historical interpretation and tidbits of information to actors John Cusack, Gordon Clapp and D.B. Sweeney while assisting with the technical aspects to the cinematic re-telling of the "Black Sox Scandal." He even appeared as an on-camera extra in the movie—a Chicago police officer, appropriately.


Helping the White Sox Build the "Legacy Plaza"

Legacy Plaza sculpture outside of Gate 4 at U.S. Cellular Field.
In May 2008, the White Sox unveiled their "Legacy Plaza" - a historic commemoration of the first 109 years of team history outside of Gate 4 at the new U.S. Cellular Field. Rich provided the White Sox Marketing Department with a "timeline" of 200 of the most historic and significant events in team history that was to form the baseline of 200 bricks, each with a famous moment inscribed and laid out in the shape of a baseball diamond.
In all, Rich has written five detailed White Sox histories including the 600-page Total White Sox, The 2011 update to Total Sox came out in April, 2011.
The Sears Tower (NOW WILLIS TOWER) Mural

In 2000, Rich provided a historic timeline of major events in Chicago sports history for the interactive mural on the observation deck of the Sears Tower.


Sears Tower Skydeck
Listed in Who's Who in America, 1998 -
Frederic Milton Thrasher Award recipient from the National Street Gang Crime Research Center, August 2001
Distinguished Alumni Award from Northeastern Illinois University, 1997
Robert Zegger Memorial Award, Phi Alpha Theta Honor Society, Pi Gamma Chapter,1988
Inducted into the William Howard Taft High School (Chicago) Alumni Hall of Fame, May 2000
Morris Wexler Award recipient from the Illinois Academy of Criminology, 2008
Society of Midland Authors 2010 Award Winner for Biography: "The Gambler King of Clark Street"
Illinois State Historical Society 2010 Award for Excellence: "The Gambler King of Clark Street"


All contents copyright © 2001. .
site design