Chicago Baseball & Sports
by Richard C. Lindberg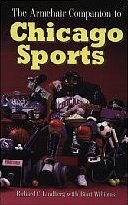 The Armchair Companion to Chicago Sports, Nashville, TN: Cumberland House. Published September 1997. 302 pages. A marvelous compendium of Chicago sports history and trivia covering all of the Windy City professional teams, both current and defunct, plus sections on golf, tennis, horse racing, running, sailing, boxing and bowling. Co-authored with Biart Williams who wrote the City Series section for the Encyclopedia.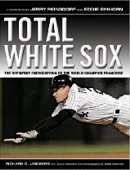 Total White Sox, (formerly The White Sox Encyclopedia)
Six-hundred pages of text accompanied by a stunning collection of 700 visual images both rare and unusual. Statistics, 189 player biographies, the City Series in review, season-by-season coverage from 1900-2005. Foreword by Eddie Einhorn and Jerry Reinsdorf. Photo archive compiled by staunch White Sox fan Mark Fletcher. Universally praised by reviewers for its originality and content. Easily eclipses (in scope) the companion volume on the Chicago Cubs written by Jerome Holtzman and George Vass. There is simply no finer, nor a more definitive volume of Sox history than this tireless compilation of South Side baseball lore. Published by Triumph Books in Chicago.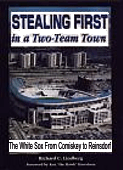 Stealing First in a Two-Team Town: The White Sox From Comiskey to Reinsdorf. Champaign, IL: Sagamore Publishing, 1994. Hardcover. 274 pages. An enthusiastic sports publisher located in the Illinois heartland brought out the inside story of the decision to build a new Comiskey Park, and the backroom politics involved in winning approval from the State Legislature to construct the stadium with taxpayer monies. Rich persuasively argued that the new stadium was in the best interests of the fans and the city, and without it, the team was destined to move to Florida based on his own investigations and interviews with former Governor James R. Thompson, Sox owner Jerry Reinsdorf, legislative leaders, and director of the Illinois Sports Facilities Authority. The fans were not of the same mind, and much rancorous debate followed—one reason why Lindberg has divorced himself from the maelstrom of baseball writing.

Out of Print: Limited number of copies available from the author. Price: $19.95 plus $3.00 shipping. Send check of money order to Richard Lindberg, P.O. Box 31343, Chicago, IL 60631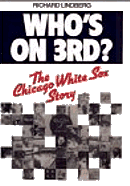 Who's On Third? The Chicago White Sox Story, South Bend, IN: Icarus Press, 1983. Published in hardcover and mass-market paperback. 287 pages. Out of print. After reading Jim Langford's The Game is Never Over, Lindberg got in touch with the small South Bend publisher who was eager to cash in on the renewed interest in White Sox baseball following the sale of the team to Jerry Reinsdorf by Bill Veeck. The 1983 division title that followed was a boon to hardcover sales. The first print run sold out in three months. A mass-market paperback was rushed into print in late September, just in time for the playoffs. For a two-week period, nearly every grocery store checkout line in Chicago stocked Who's on Third.

A limited number of hardcover editions remain in the author's collection. Price: $20.00 plus $3.00 shipping. Send check of money order to P.O. Box 31343, Chicago, IL 60631.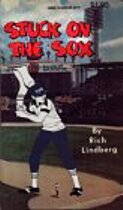 Stuck on the Sox, Evanston, IL: Sassafrass Press, 1978. 192 pages. The joy of a first book was tempered by Clarence Peterson's review in the Chicago Tribune. Looking back on that sobering experience and his early foray into publishing, Rich understands why the book was criticized, but writing quality books takes time, patience, and a very thick skin. Stuck on the Sox was supposed to have been a warm and delightful look back at the frustrations of growing up a White Sox fan while living on a side of town where all the Cub enthusiasts lived. Rich was uncomfortable writing in a humorous vein—he's not Art Buchwald after all. But more importantly, it was the first book of any kind about the White Sox to appear in stores since David Condon's post World Series wrap-up in 1960. At every Sox fan convention or bookstore signing where Rich appears, someone is likely to mention to him that they read Stuck on the Sox—and loved every minute of it. (Rich still doesn't believe it!)

Out of print now but a limited amount of paperback copies are still available for $10.00 plus $1.50 shipping. Send check of money order to P.O. Box 31343, Chicago, IL 60631

The Macmillan White Sox Encyclopedia, New York: Macmillan, 1984. Out of print. Macmillan commissioned Lindberg to write the narrative season summaries for what was essentially a statistical abstract plucked from the Macmillan Baseball Encyclopedia database. About eight of these team histories found their way into print before the series was abruptly cancelled. No copies available.


CONTRIBUTING WRITER (Encyclopedias & Anthologies)
Wrote the Foreword to the 2007 reprint of The Chicago White Sox, published by Kent State University Press and originally authored by Warren Brown in 1952.
American National Biography, American Council of Learned Societies and Oxford University Press, 1999.
The Encyclopedia of Major League Team Histories, New York, NY: Carroll & Graf, 1993, Trade paper.
The Encyclopedia of World Crime, Wilmette, IL: Crime Books Inc., 1990.
The Ballplayers, New York, NY: William Morrow, 1990. Hardcover.
A Kid's Guide to Chicago, G.T. Nelson, Inc., 1980. Trade paper.


All contents copyright © 2001. .
site design