Chigago History Books
by Richard C. Lindberg

Chicago Yesterday & Today, by Rich Lindberg and Carol Jean Carlson.
Publications International, 2009

A lavish photo and narrative essay of historic contemporary Chicago from the earliest days of the Fort Dearborn settlement through the opening of Millennium Park.

This hardcover coffee-table edition features hundreds of vintage photographs, maps and wood-cut drawings juxtaposed with Chicago history and text supplied by Rich and his co-author Carol Jean Carlson. For Rich, it is quite a departure from crime, politics, and sports and a year-long writing project.

Available in hardcover at all major retail book outlets.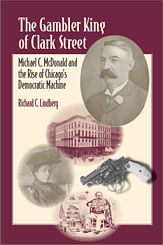 The Gambler King of Clark Street: Michael C. McDonald and the Rise of the Chicago's Democratic Machine
Published June 2009 in hardcover, Southern Illinois University Press. (Elmer H Johnson & Carol Holmes Series Criminology)

Rich's lifelong fascination with Michael C. McDonald, Chicago's wily 19th Century political boss, roué, and roguish gambler the McDonald story, a first-ever biography about this enigmatic but mostly forgotten gambler who built the foundation of the city's enduring and eternally corrupt Democratic Machine still in power after 120 years.

With swagger and bravado, "King" Mike elected mayors, consulted with presidents, amassed a personal fortune and suffered mightily at the hands of two feckless wives who "done 'em wrong." With swagger and bravado, "King" Mike elected mayors, consulted with presidents, amassed a personal fortune and suffered mightily at the hands of two feckless wives who "done 'em wrong."

His tragic personal life is interwoven with the intriguing story of the rise of organized crime in the Windy City; formulated by McDonald and his syndicate of gamblers, sharpers, bondsmen, sluggers and crooked politicians possessing colorful and oblique nicknames, a zest for the high life, and a gift for larceny on a grand scale.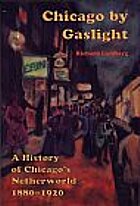 Chicago by Gaslight: A History of Chicago's Netherworld, 1880-1920
Chicago, IL: Academy Chicago Publishers. Published in January 1996. 236 pages.

While Chicago's glorious past is already well-known and well-documented, the "other" Chicago--a time and place of gamblers, prostitutes, anarchists and gangsters--has long been a fascinating subject for anyone interested in the reality of how Chicago became the metropolis that it is today. The sleazy side of the city's past--its red-light district, race riots, killers, the downtrodden and the elites--is often forgotten by historians and researchers.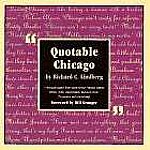 Quotable Chicago
Chicago, IL: Loyola Press/Wild Onion Books. Published in September 1996. 232 pages.

Foreword by Bill Granger.

This handy pocket sized volume captures the spirit of Chicago and the essence of the spoken word. The musings of the famous, the infamous, and the forgotten dot the pages of Quotable Chicago. Hear what Oscar Wilde, Richard J. Daley, Dennis Rodman, Mark Twain, Dr. Martin Luther King, Al Capone, Rudyard Kipling, William Butler Yeats, Michael Jordan and Sarah Bernhardt all had to say about the Windy City and its people.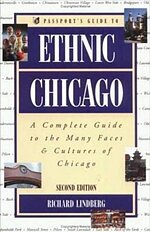 Passport's Guide to Ethnic Chicago
Lincolnwood, IL: NTC/Contemporary Books, 1992. Second edition published in 1997. 378 pages.

This is Richard's best-selling book so far. Lively neighborhood tours, restaurant reviews, listings of parades and festivals augment a balanced history of the immigrant settlement of Chicago. Chapters are organized and arranged in a chronological format from Native Americans to the early arriving Irish and Germans, up through the modern day era when the ethnic landscape of the city increasingly reflected the emerging Asian, Middle Eastern and Hispanic influence.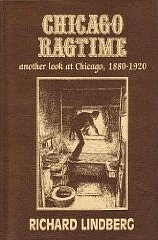 Chicago Ragtime: Another Look at Chicago, 1880-1920
South Bend, IN: Icarus Press, 1985. 282 pages. Republished in trade paperback as Chicago by Gaslight: A History of the Chicago Netherworld, 1880-1920, by Academy Chicago, 1996.

This colorful and engrossing look back at the dark side of Chicago during the Gilded Age was praised by the late, great journalist and book author Herman Kogan for its "prodigious amount of research and its host of new and delicious details."



The hardcover edition of Chicago Ragtime is long out of print, but the author has a small number of copies available for purchase. Price: $20.00 plus $3.00 shipping. Send check or money order to P.O. Box 31343, Chicago, IL 60631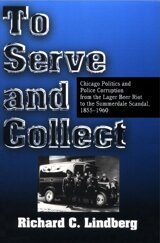 To Serve & Collect: Chicago Politics and Police Corruption from the Lager Beer Riot To the Summerdale Scandal, 1855-1960
Westport, CT: Praeger Publishing. 1991. Republished in paperback by Southern Illinois University Press in 1998. 366 pages.

Four years of solitary research went into the preparation of this book (begun as a graduate thesis at Northeastern Illinois University). Lindberg's engrossing history of the Chicago Police Department, its moments of shame and valor, and the litany of scandal spread across 100 years, was the first volume to be published on the subject since John Flinn & John Wilke's History of the Chicago Police (sold by subscription to fatten the coffers of the Policeman's Benevolent Association) appeared in 1887.


CONTRIBUTING WRITER (Encyclopedias & Anthologies)
American National Biography, American Council of Learned Societies and Oxford University Press, 1999.
The Encyclopedia of Major League Team Histories, New York, NY: Carroll & Graf, 1993, Trade paper.
The Encyclopedia of World Crime, Wilmette, IL: Crime Books Inc., 1990.
The Ballplayers, New York, NY: William Morrow, 1990. Hard cover.
A Kid's Guide to Chicago, G.T. Nelson, Inc., 1980. Trade paper.


All contents copyright © 2001. .
site design